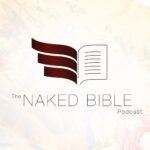 Part 1: Johnny Cisneros – Bible Study Apps for Word Studies in Colossians
What are some of the best Bible study apps today? And how can you use those study apps to gain meaningful insights into the key words in Paul's Letter to the Colossians? In this episode, Dr. Heiser interviews his long-time friend and colleague, Johnny Cisneros. With his training in biblical languages and his doctoral studies in technology-enhanced learning, Johnny Cisneros is the ideal person to help you apply simple and powerful strategies to study the Bible. The discussion centers on introducing you to some popular Bible study apps, walking you through several examples of Greek word studies from Colossians, and finally, a special offer to the Naked Bible audience for video courses designed by Johnny Cisneros.
Part 2: Joe Fioramonti – Anno Domini
Joe Fioramonti is a long-time friend of Mike and the podcast. He's an artist, a professor, and an entrepreneur. His new business, Anno Domini, designs and hand-produces unique but traditional art prints. One-third of the proceeds goes directly to ministries that focus on persecuted pastors and Christians in dangerous parts of the world.